Decorating for Christmas has to be among the top best things to do in a year. You get to go wild with your designs and include your family in the planning which makes it all the more fun. It can seem a bit overwhelming and intimidating when trying to come up with ways to transform your home into a wonderland but it doesn't have to be that way.
With a few tips pointing you in the right direction and your imagination, putting up your Christmas decorations will become something to look forward to.
Go for Unique
While green and red have become traditionally known as the colors of Christmas, you don't have to take the traditional route. Your decoration has to be something special and unique to you.
You can go for a minimalistic traditional design, a more modern winter-like theme, or extravagant decorations for your home. Since the Christmas tree is the centerpiece for your decorations, you can make the tree decorations with baubles in different colors, some ribbons, and several ornaments you've stored away in the attic.
Let your decorations embody the feeling you want for Christmas and showcase the side that you wish to represent.

Choosing your Christmas tree
Having a tree for Christmas is one of those traditions that you can't do without. It is always special when you gather around the tree with a cup of hot chocolate in hand and open up the gifts under the tree. Also, getting a tree in your home can tie up your decorations.
There are two types of trees you can get which are real trees and artificial trees. The type of tree you get is determined by what you want to achieve and the purpose of the tree. If you want something durable that saves you from having to get a tree every year, then you might want to go for an artificial tree. High-quality artificial trees don't shed their needles as fast and look similar to the real ones. Before you settle on an artificial tree, make sure you check to see if the needles are evenly spaced or prone to falling off easily.
Those that go for a real tree, usually do so due to the authenticity and warmth that comes with having a fresh tree in your home. But you may have to buy a tree basket skirt to help with the shedding. A tree basket skirt also adds to the aesthetics of your tree.

Bring on the Lights
Whether you are decorating the front yard, your trees, or the mantlepiece or windows, Christmas lights are used to light up the home for festivities. Some artificial trees come with lights built into them but if you are using a real tree or a standard version of an artificial tree, you may want to consider getting your bulbs.
You can choose between LED lights and incandescent light bulbs. Incandescent bulbs are old-fashioned and are known for their high energy consumption and the fact that they can become hot when in use. LED light bulbs are the more modern approach to Christmas lights as they are brighter, cost-efficient, and do not consume as much energy as incandescent light bulbs.
The next thing to decide is how you are going to use the lights. If you want to hang some lights on your tree, you would want to go for either multi-colored cluster lights or one with a single color. Their design gives the tree a healthy and natural glow as it makes it look full and elegant.
For decorating your wreaths, windows, garlands, fireplaces, the roof, or any other blank space, go for string lights. The bulbs are well spaced and have a look that would fit those spaces.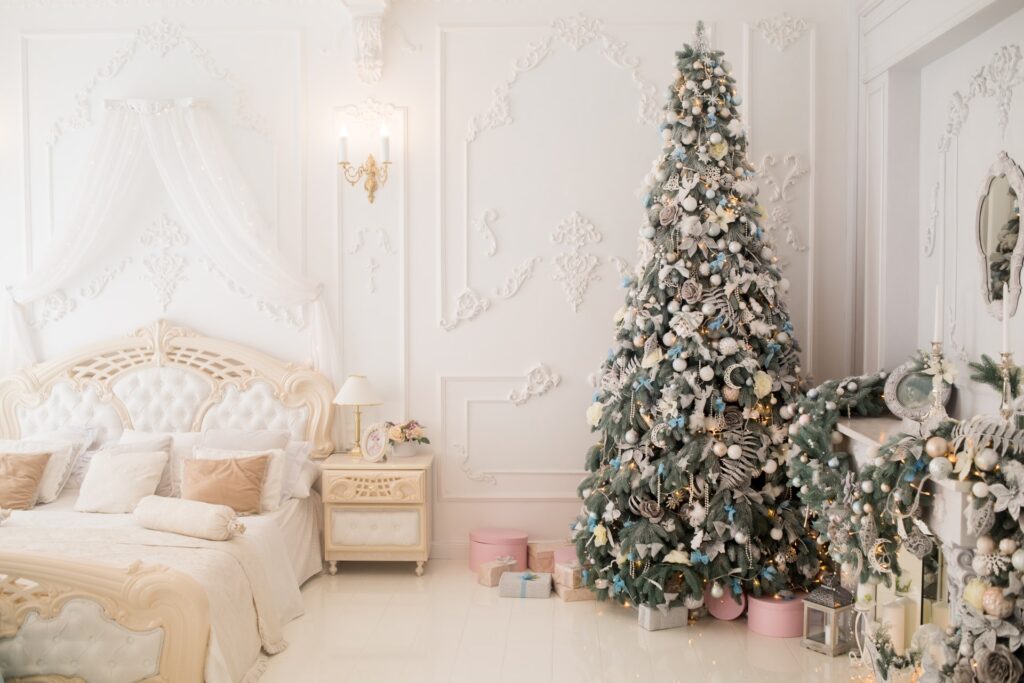 Include Some elements of Nature
Including some natural or natural-looking elements into your decorations can give the feel of elegance and warmth. For your Christmas tree decorations, you can make some baubles out of colorful paper to decorate the trees or get some wooden decorative items.
You can place garlands and wreaths around the house and in addition to your big, wonderful tree sitting pretty in the middle, get some tiny spruce trees to place in specific corners of the house and decorate them with lights- this would turn your house into the most magical Christmas home.