For many people out there, cooking is more than just a way to feed yourself. Food preparation and cooking can be therapeutic, even relaxing and de-stressing, a form of therapy that helps provide many psychological benefits. That said, certain dishes and types of food are harder to get right, and you won't be able to delight in having successfully produced a culinary work of art unless you practice or have some help.
Although seafood is a hugely popular food source worldwide, not everyone feels confident enough to buy and prepare their own seafood dishes. It can sometimes be daunting picking the freshest seafood or learning how to store it safely. We want to give you the confidence to start making more seafood dishes with our seven practical tips for cooking seafood at home.

1. Buy Frozen
We have all been told that you need to buy fresh to get the best seafood and that nothing comes close to the mouth-watering flavors that are right off the boat. Okay, so fresh seafood is excellent, but you can rarely be sure you're getting the best quality seafood fished from the oceans a few hours ago.
On the other hand, when seafood is quick-frozen after capture, all the nutrients and health benefits you would expect from eating seafood are locked in without losing any quality or flavor. The battle of frozen vs. fresh seafood isn't always clear-cut, but among other benefits, frozen certainly provides convenience and quality for anyone looking to make more healthy seafood dishes.
2. Look for Convenience
Now you can ask your fishmonger to skin your fish or take the bones out, but better yet, why not buy already prepared frozen seafood? You can get delicious frozen seafood that comes conveniently portioned and packed from any good frozen seafood supplier — meaning all you need to do is start cooking. Don't feel bad about taking the hassle out of your seafood dinner; just enjoy it.

3. Store Seafood Correctly
Seafood can go bad quickly. It is, therefore, essential to make sure that you store your star ingredient correctly. If you are using fresh, we recommend consuming it within a day or two of buying.
You have more time with frozen seafood, but it is still essential to keep it frozen at the correct temperature and never re-freeze it after thawing.
4. Start Simple
There will always be technically simple and tricky dishes to make, whether you are making a seafood dish or a vegetarian feast. That is why we recommend you start by selecting a simple seafood dish to begin with.
Why not start with a "fish en papillote" recipe — also known as fish recipes that cook fish in parchment paper packets. These paper packets make getting a tender, moist fish fillet easy as they trap in any moisture and gently steam the fish. This technique is forgiving, and it can taste great if you get your selection of herbs and seasonings right.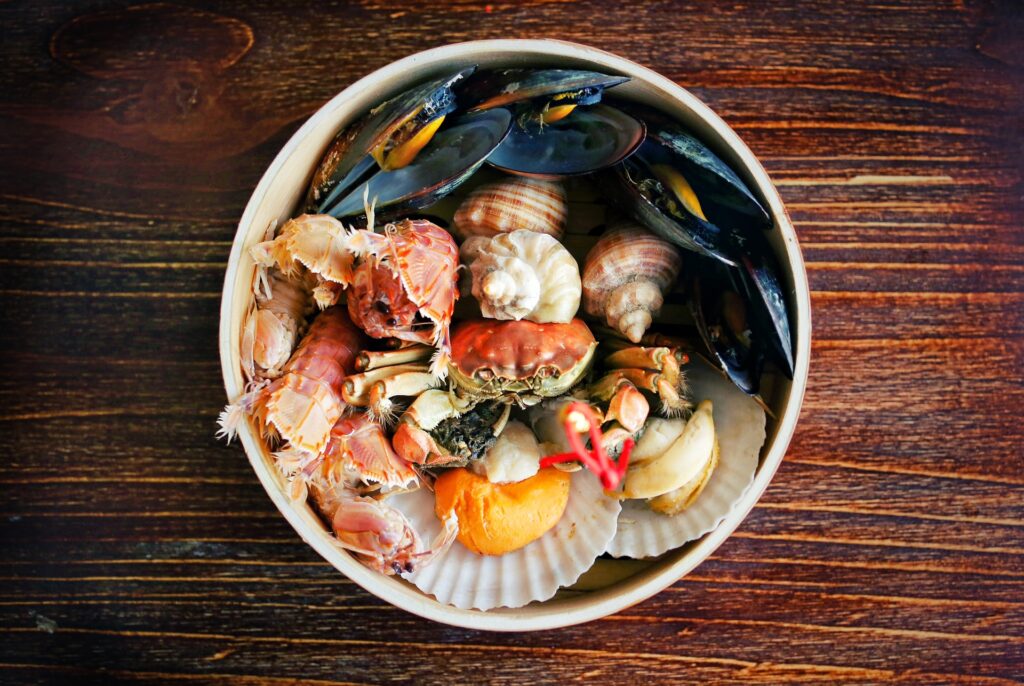 5. Invest in the Right Tools
Cooking seafood is all about preparation. You have to ensure that you have good quality seafood, fresh ingredients, and the right equipment to create the best seafood dish possible. That is why we recommend you invest in utensils like a fish spatula so that you avoid accidentally breaking your fish.
6. Find the Right Recipe
Finding the right seafood recipe is nearly as crucial as getting the best ingredients. Therefore, it is essential to do your research. Whether from a cookbook or online, you will want to check to see if all the steps are clearly and accurately laid out for you to follow. Also, be aware of the cook and prep times as the last thing you want to do is start a two-hour recipe when you are hungry, and your guests are en route.
7. Practice Makes Perfect
You won't be an expert after one seafood paella, but it is important to enjoy it and not lose heart or motivation. Keep trying those delicious seafood recipes, and keep learning from your mistakes. Eventually, all that practice will pay off, and mouth-watering seafood dishes will become your new favorite dinner party trick.