The Swiss love their fondue. Others have also grown to love this particular type of delicacy. Sure, some people in other parts of the world may look at Swiss fondue as something that was famous around 40 years ago. They may think that it was only around 40 years ago that it was popular. But for the Swiss, it is a part of their life.
Now, fondue is quite expensive due to the fact that it is scarce and not a common food item.
The delicacy will be present all across Switzerland, and tourists can take advantage of this delicacy wherever they are in that beautiful land. So whether you are in the general countryside or the larger cities, you can be sure to enjoy it with other people.
Traditional Swiss fondue is one of the most popular Swiss dishes. It is common in the winter period when fresh products are scarce. The right stale bread and cheese can be used to prepare this delicious dish.
But you do not have to worry about going to the wonderful land of the Swiss to eat this delicacy. You can take some time and learn how to do it at your house. You might be surprised at this suggestion but it is true, you can do so at your house! But it is something that you can do to make sure you expand your culinary skills and add a little bit more color to your life.
Here is what you need to know about making fondue.
Swiss Fondue and How to Make It
Swiss fondue is a fast food option to try out at home. It only takes about 10minutes to prepare and another 10 minutes to cook.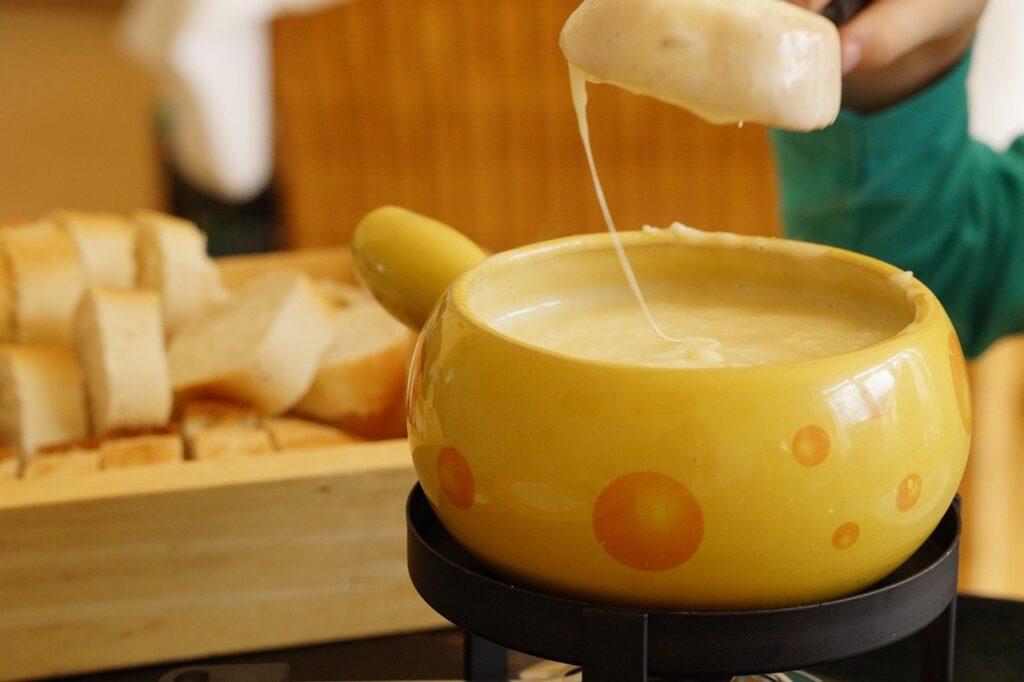 The key ingredients you need to make the traditional side fondue are:
1 small garlic clove
2 teaspoons of Cornstarch
1½ oz kirsch
1 cup of dry white wine
Ground black pepper
Grated Gruyère cheese
Grated Appenzeller cheese
Grated nutmeg
Other ingredients you will need to make the swiss fondue are; curated bread, cubed salami, carrot, steamed broccoli, seedless grapes, roasted chestnuts, and cauliflower.
Besides the ingredients mentioned, you'll need a fondue cooking set or your regular cooking stove, a wooden spoon, and a fondue fork to prepare the Swiss fondue.
How to prepare a traditional swiss fondue
Step 1: pour wine and cheese into a non-stick pan and heat until the cheese melts completely. Melt more cheese in the mixture until you have gotten the desired thickness.
Step 2: rub the inside of the fondue pot with the clove of garlic, whisk the kitsch and cornstarch together in the fondue pot.
Step 3: pour the melted cheese and wine mixture into the fondue pot. Add the other ingredients and heat the mixture slightly, not allowing it to boil.
Step 4: sprinkle freshly ground black pepper and nutmeg to garnish the fondue.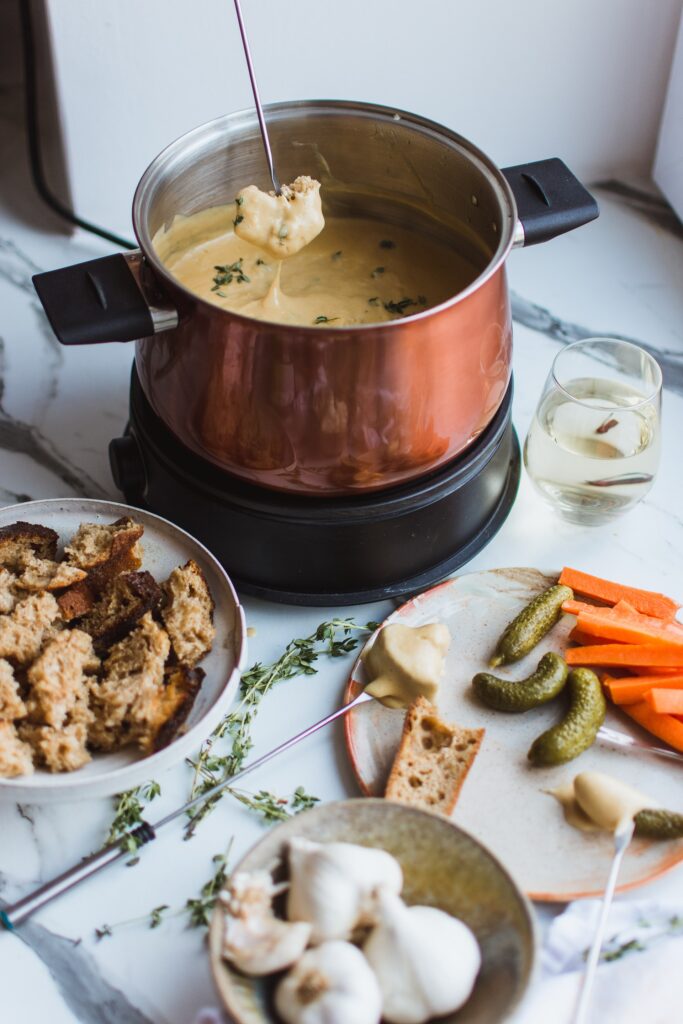 Time to enjoy the Swiss fondue
Dip the crusted bread in the fondue with your fondue fork and enjoy the sumptuous meal.
There you have it, a fantastic way to add a little more color to your life, regardless of where you are.